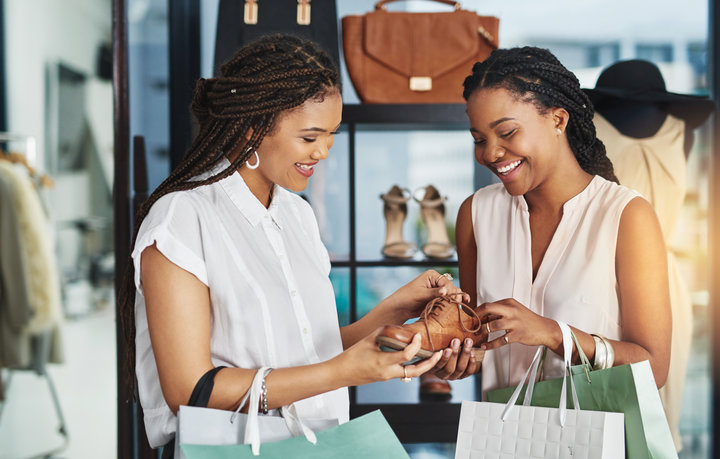 Nike showed that its relationship with the black community is not just transactional.
Some critics (mostly within the AA community) are minimizing this advertising partnership – they feel as though Nike can and should do more to advance social justice issues & to support the black community. I agree and I hope that there's more community investment initiatives to come from the company BUT I refuse to ignore how significant THIS step was. Not only did it give Kaepernick (a philanthropist in his own right) a larger platform to share his cause, but the reach, engagement, and contribution to progressive social discourse are massive. If you feel like Nike should do more, please share your voice – but don't flippantly discount this campaign. To many corporations, the black community is valued for its spending power (only) – Black Twitter even created a hashtag to bring awareness to the issue (#BlackDollarsMatter). I will slow clap for any brand that takes a step in solidarity – but I'm also committed to continuing the relationship and dialogue in hopes for greater investment and partnership.
For the black community to realize justice in America, there has to be a collective economic strategy – not just anger, knee-jerk distrust and criticism.
A recent report estimates black spending power at $1.2 trillion, and nearly $2B of that is spent on athletic wear. Athletic brands have had a long history of signing African-American athletes for endorsement deals and sponsoring major athletic tournaments focused on black youth. While black cultural expression may be a central brand theme, critics have questioned whether there is sufficient support from companies toward the communities from which they profit most or if, rather, the relationship is purely transactional.
Others have criticized the black community for not having a collective economic agenda to realize the social change many hope to see. African Americans consistently outpace the total market population in smart phone ownership, television viewing and annual shopping trips. In an article written by Stacy M. Brown titled, "Big Spenders, Small Investors: Blacks Have Little to Show for Hard-Earned Dollars," Ms. Brown writes,
"If Black America counted as an independent country, its wealth would rank 11th in the world. However, African Americans continue to squander their vast spending power, relegating Blacks to economic slavery instead of financial freedom."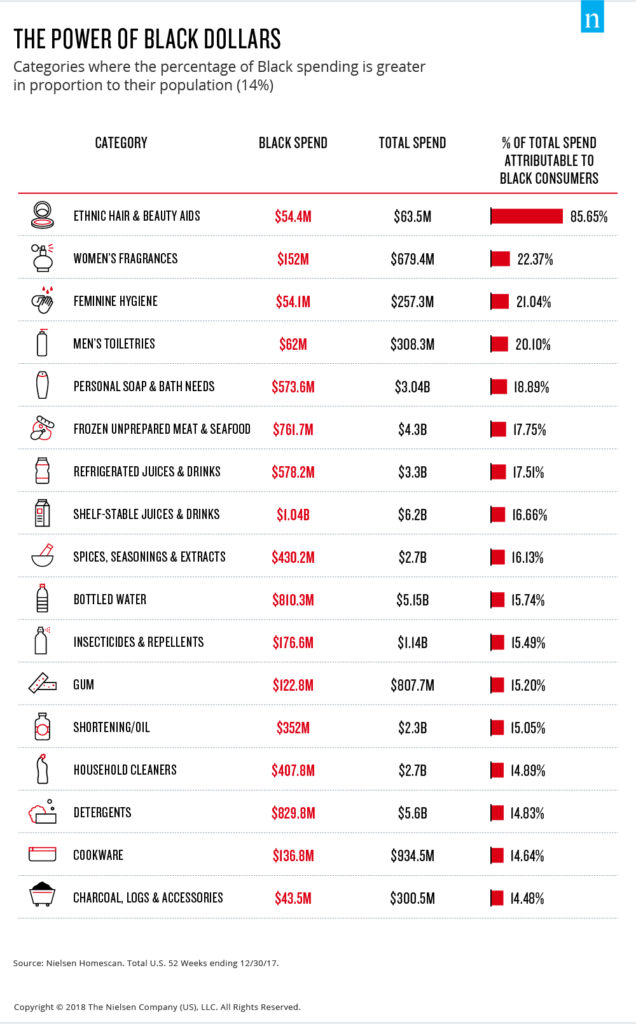 Each year, Blacks spend more than $47 billion on Lincoln automobiles, $3.7 billion on alcohol, $2.5 billion on Toyotas, $2 billion on athletic shoes, and $600 million each year on McDonald's and other fast foods, according to Target Market News Inc., a Chicago-based marketing research group.
The current homeownership rate reveals that 73.5 percent of Whites own homes while approximately 43.9 percent of Blacks are homeowners, according to the Harvard Joint Center for Housing Studies State of the Nation Report for 2013.
Sixty percent of Blacks have less than $50,000 saved in company retirement plans and only 23 percent have more than $100,000.
While Blacks are not the highest earners in the U.S., we are spending a large percentage on things that depreciate rather than things that appreciate. It is only right for the black community to expect that the companies receiving these dollars participate reciprocally and support economic reinvestment and social justice initiatives. This also makes good business sense for corporations.
Nielson media recommends that companies take notice of black community spending, because black consumer brand loyalty is contingent upon a brand's perception as authentic, culturally relevant, socially conscious and responsible. Moreover, Black consumers' brand preferences are increasingly becoming mainstream choices, which illustrates that the investment in connecting with Black consumers can often yield sizeable general market returns.
African-American consumers, and all diverse consumers, want to see themselves authentically represented in marketing, and they want brands to recognize their value to the bottomline.