Social media and public health: It's about vulnerability
Today, social media is mourning a fashion and style icon: Ms. Kryzayda Rodriguez. She passed away after a relatively short battle with stomach cancer (she shared her diagnosis in November 2017).
I loved her style (you can see more of her light on her Instagram page), but her story and #JamRock's story, which I share below, have enamored me over the past few months. I am writing this post for my public health colleagues.
Typically, health care and public health organizations share health information with the public on their social media profiles – some better than others – but there are theorists who encourage organizations to use social media to support community, share information, and to encourage action. While I love that we promote public health observances, statistics and share OUR campaigns, what I really drives people to act is emotion. This is why the Tips from Former Smokers campaign has been so successful, it used a fear-based messaging approach:
"The campaign approach was based on strong evidence that anti-tobacco ads portraying fear, graphic images, and personal testimonials are associated with attitudinal and behavior change. Yet it was also controversial; critics cited the danger that viewers might reject such intensely graphic messages….among the relevant Tweets, 87% showed evidence of message acceptance, while 7% exhibited message rejection."
Basically, for smokers, it is hard to look at Terrie's story and not want to immediately put your cigarette down and call your doctor or seek help.
But what if funding for a formal health communication campaign is not available? Actually, the stories are all around us. Our job as public health communicators is to listen, be accessible, and engage responsibly.
I found Kryzayda's page after a friend, who is suffering from Cancer, told me about her. Kryzayda is her favorite fashion blogger and my friend was so amazed that they were sharing a similar health care battle. It allowed for a different level of intimacy and connection. So, I started following her last Fall and immediately fell in love. While I love her fashion sense, I respected more that she would share updates on her cancer fight with candor and grace, while encouraging followers to celebrate life, take care of their bodies, and spend time with those they love. Just last week, she posted a live Instagram video and shared a private moment from her hospice bed. Nearly 10 loved ones and friends were circled around her as though they were socializing at a routine dinner party. The transparency of that moment – enclosed in laughter and joy – was a moment we all need to see. Cancer attacks every day people and everyday people – those who are not victorious in their fight – can choose to love and laugh even until their last breath. At the time of her death, she had more than 361K followers – I am sure there are countless more mourning her death today.
The other story I have passively stalked on Facebook is the love story of Jamie Stone Jackson and Rodney Jackson of Atlanta, Georgia. I found Jamie's page after she commented on a viral article of an older man who walks six miles every day to visit his wife in the hospital (another great story of love, loyalty, and aging – receiving 46M views).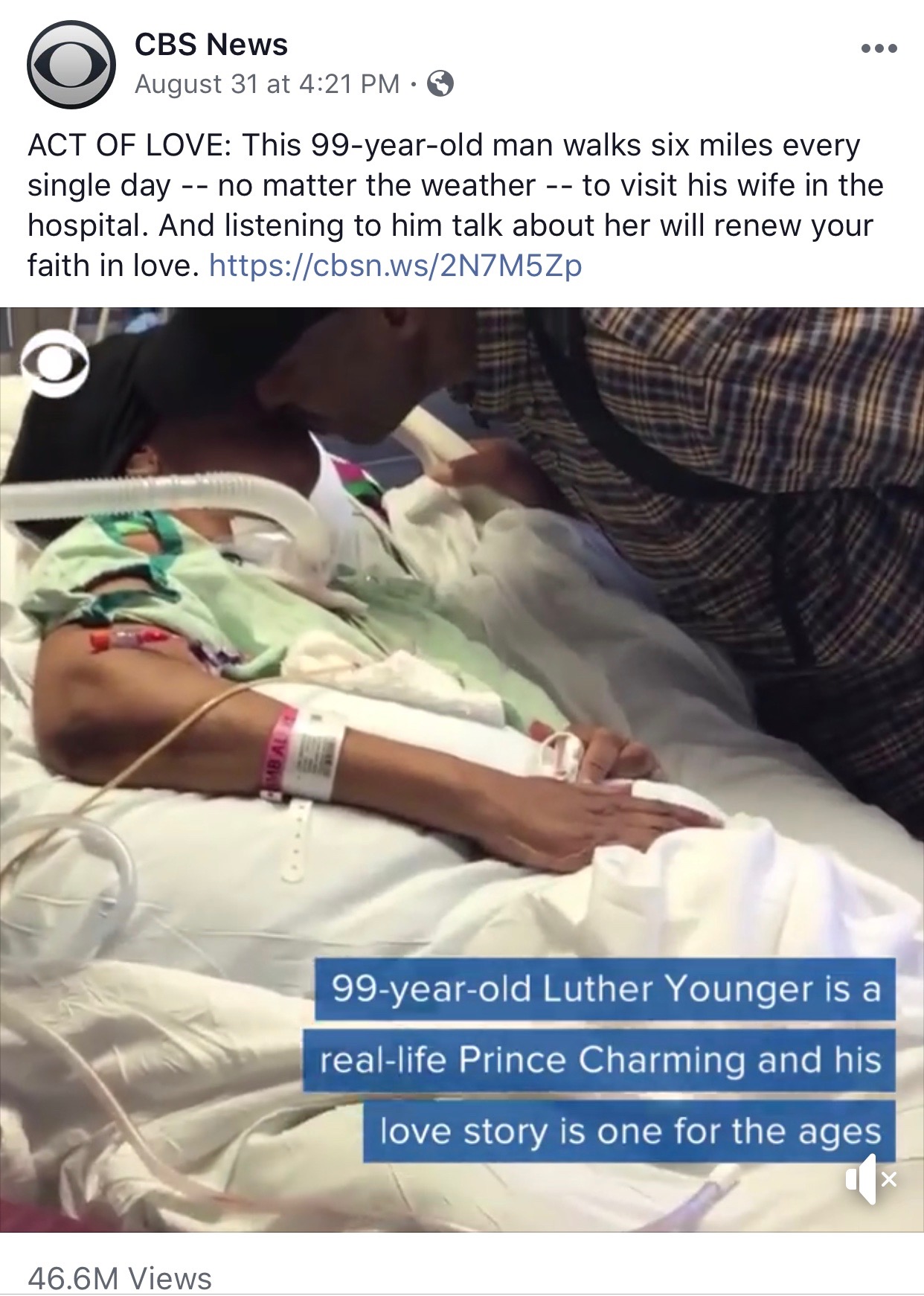 Jamie's comment on that article has since received more than 20K likes.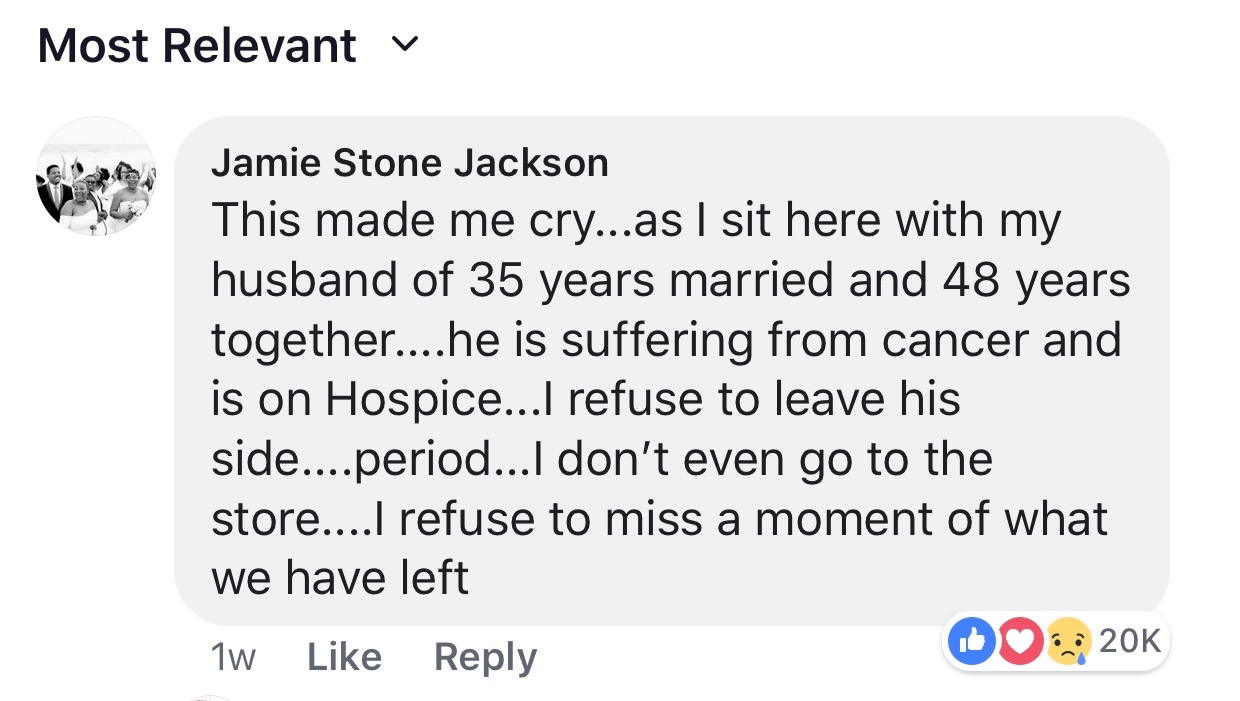 Being the empath that I am, I went to Jamie's page (don't you love social media?). She posted a live video just 2 days before – she shared a status update of her husband's cancer journey. Although the video is 40-minutes long, her humor, warmth, sincerity and realness seam to real you in. I have since watched her video at least 5 times. Let me tell you why: she shares how her husband was diagnosed with cancer in early 2018 and his journey to that moment. Unfortunately, despite treatment at one of the best health care centers in the nation, the cancer just appears too aggressive – he chose to stop treatment, come back to Atlanta, and receive hospice care. The video shares a range of routine family banter, tears, laughter and – the most heart touching nugget – Rodney shares his own perspective on his journey.
What struck me most is that they share a vulnerable update as a family – as a loving couple that has been together for 48 years. The couple address how people have meant well with their advice and support (e.g. go vegan, do holistic care, simply pray about it – the devil is a liar!) – but in the end, Rodney tells them to kiss his a** (in jest, lol). Unless you have lived with cancer, you don't know the toll it takes on a person. It is bigger than a statistic. This is their story, one that they are sadly accepting will come to an eventual end – sooner than they wanted.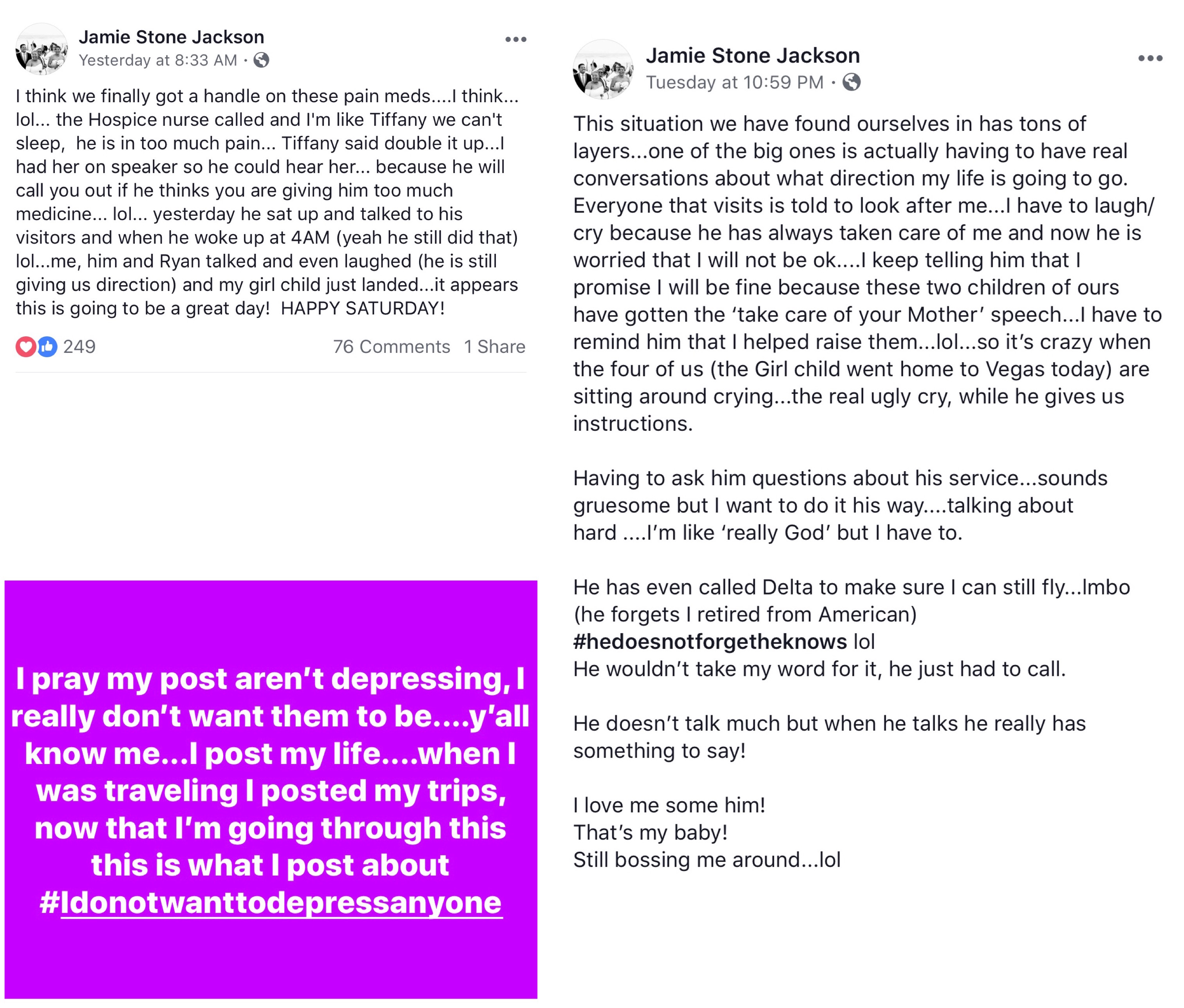 Rodney and Jamie met as children – they were even featured on the Oprah Winfrey show in 1998. Their story also demonstrates what love and loyalty look like when life isn't perfect. Again, I am in love with them both. I am cheering for their family.
Jamie and Rodney celebrated 35 years of marriage in May #JamRoc35
These are examples of the vulnerability policymakers and partners need to see – yes, those who make health care policy and funding decisions on cancer prevention and research.  But it is also the level of vulnerability the public needs to see. Social media is often used by some to share life's best moments – not our weakest. While I have seen many announce their health struggles, I am not sure I have seen many people allow the public into all the emotions and stages these health journeys require. I encourage health care and public health organizations to use social media as an opportunity to hear stories from those they serve., offering support and amplification as appropriate. The impact both of these stories have had (in terms of reach, impact, connection, information sharing) is more than any paid or sponsored organization post could ever bring.
Both of these stories (and countless others) keep me committed to doing public health communications differently.
Sending love, prayers and sincere condolences to Kryzayda's family.
She has made a lasting impact on me.