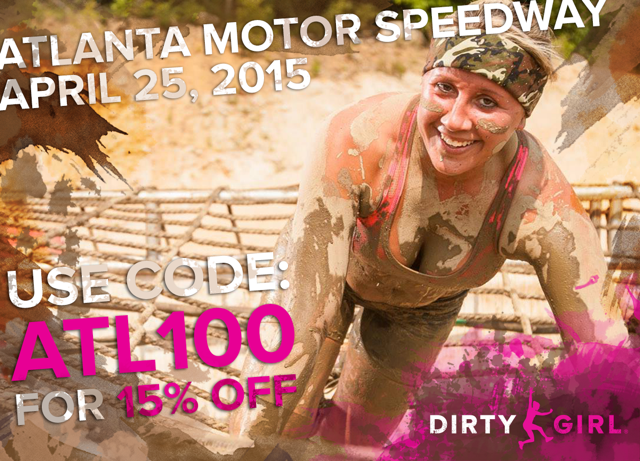 Would you like to win FREE Tickets to the Atlanta Dirty Girl Mud Run!
Proceeds support Bright Pink® to encourage breast cancer prevention and early detection nationwide.
This Saturday, Atlanta residents may notice an influx of traffic on I-75 South as thousands venture to the Atlanta Motor Speedway to participate in the annual Dirty Girl Mud Run 5k event and charity affair. Founded in 2011, the Dirty Girl Mud Run is an untimed obstacle course that inspires women to run walk, climb, jump and laugh their way through a premiere all-female mud run. I have always wanted to try a mud run but never thought myself adventurous enough to expose these kinky curly locks to such an "in your face" obstacle course experience. But, I am IN this year – and I will be wearing a pink tutu and at least 2 swimmers caps to protect this precious mane 🙂
Are you with me?
If that is not enough to convince you to sign-up, this year's event supports a very special cause that should touch every woman – especially those of us who are under 45. For this year's event, the hosts have partnered with Bright Pink® – the only national non-profit organization focused on the prevention and early detection of breast and ovarian cancer in young women. That's right – Bright Pink helps young women to take cancer prevention into their own hands through education and proactive action. Why does this matter to me? Well, I found a lump in my breast while a student at Clark Atlanta University – if it were not for the education provided by my campus student health services, the mass could have remained and grown for years thereafter. But, that did not happen – the lump was removed and found to be benign. Bright Pink encourages young women to take charge of their breast health – as young women, we can more easily see our breasts as something sexualized or vessels to nourish our children. But, breast cancer does not discriminate by age.
According to the CDC, most breast cancers are found in women who are 50 years old or older, but breast cancer also affects younger women. About 11% of all new cases of breast cancer in the United States are found in women younger than 45 years of age. While breast cancer diagnosis and treatment are difficult for women of any age, young survivors may find it overwhelming. Bright Pink's innovative programs educate and equip young women to reduce their risk for breast and ovarian cancer, and detect these diseases at early, non life-threatening stages.
What you can do: Be a Dirty Girl Runner!
I, along with so many courageous challengers, invite you to sign-up today for the Atlanta Dirty Girl Mud Run. If you use the code on this flyer, you will receive 15% off of your ticket price.
To win a free ticket to the race, please show your support for Bright Pink by retweeting and sharing this story with your friends on Twitter and Facebook – feel free to tag me in your posts on Twitter @MonicaLPonder and on Facebook (Monica Lindsey Ponder). A winner will be chosen randomly and will be provided with a free registration code in the next 48 hours.
I look forward to getting dirty with you! 😉
(I so can't believe I am doing this, but exercise SHOULD be fun). See you soon. xo.